With Microsoft SQL Server 2012 comes AlwaysOn. AlwaysOn will revolutionize how we design our high availability and disaster recovery solutions. Maybe revolutionize is a little extreme, although it is pretty cool. It will however give us more options when designing HA & DR solutions. Let us take a quick look at one possible scenario to see how we can reduce hardware while increasing the number of copies of a database.
Currently I have an OLTP database we will call Voyager. Voyager is considered by many to be the most important database in the universe. I have copies of this database at three different datacenters throughout the universe. For high availability I have a two node windows cluster at Regulus III that serves as my primary location. For disaster recovery, I have a database mirror set up to my failover cluster located at Regulus IV. Log shipping is used to ship data to my cluster at my datacenter of last resort, Regulus V.
Here is what it looks like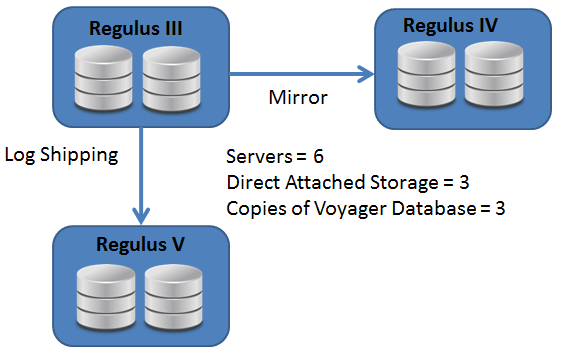 Let us take a look at moving Voyager to AlwaysOn. First we remove windows clustering from all datacenters and scrap the expensive shared drives. Yes, AlwaysOn does require windows failover clustering. AlwaysOn does not require the shared drives, or identical hardware. Instead we use local storage, for example Fusion-IO. For high availability we set up a synchronous mirror within the primary datacenter, Regulus III. For disaster recovery we set another synchronous mirror and one asynchronous mirror to our Regulus IV datacenter. Setting up either of the replicas at the Regulus IV datacenter to read-only connections gives us another database to distribute the reporting load while maintaining a failover location. Lastly, we set up log shipping with a one hour delay to our datacenter at Regulus V.
And here is what it looks like now. We were able to eliminate hardware, while increasing the number of copies of the Voyager database.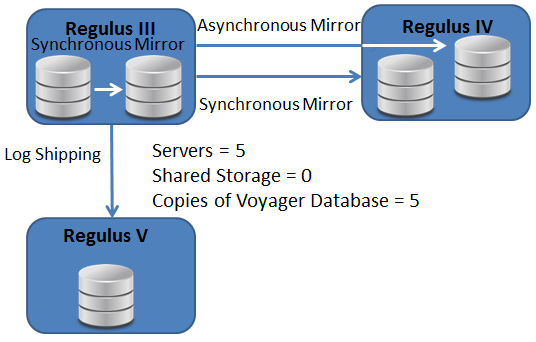 There are other configurations we could have gone with to meet different needs. The point is the possibilities are there. The ability to increase the copies of a database, keep uptime to a max and lower cost is a big step in the right direction. I look forward to seeing how creative we can get with this new feature.
NOTE: Regulus III, IV & V are planets in the Regulus sector from Star Trek, we do not actually have datacenters there… YET!!