SQL Server 2012 licensing information is here. It has actually been available since Dec 1st. I am just getting around to taking a look at it. With every release of SQL Server, Microsoft takes the time to change the licensing and editions. Luckily we only have to figure this out every few years. Here is a quick very high level look.
There are a few edition changes. Datacenter, Workgroup, and Small Business editions are being now retired. The Datacenter edition was not around for very long and its features are now rolled into Enterprise edition. The Developer, Express, Web and Compact editions managed to stick around. Business Intelligence edition is new to the family.
Each edition is coming with slightly different licensing options. Enterprise must now be licensed based on cores. This is a big change, in the past licensing had been based on physical processors. There is a cost adjustment. The accountants will spend some time determining the most cost effective licensing. Every way I calculate it, it is going to cost more.
Here is a snippet from the 2012 Licensing Datasheet.

Business Intelligence will only be licensed by Server + CAL. Standard edition may be licensed via Server + CAL or by Core.
Snippet from the 2012 Licensing Datasheet.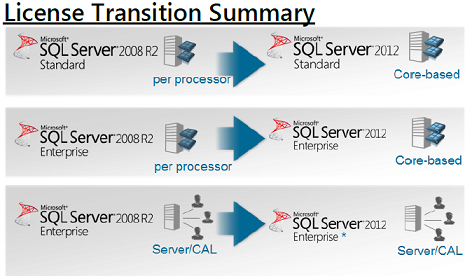 I suggest taking the time to read through the 2012 Licensing datasheet and the FAQ. Both can be found at the
Microsoft SQL Server 2012 Licensing Overview site. Pay close attention to the cut off dates throughout the datasheet and take them into consideration when planning your environment.